There are so many quilt projects I would love to do but I seem to be a bit stuck, so I thought I would make a to-do list to organize myself better. After admiring many quilts, I think I have narrowed it down to certain inspirations I would like to share with you this time around.
Two quilts for a little girl in Zimbabwe - one influenced by this
lovely doll
quilt by Sampaguita quilts. This I have started already, I am glad to say. It will be my first attempt at free-motion quilting. I am extremely excited about this one as it is for a dear friend's daughter.
Big boy quilt for my son now that he has a big boy bed - probably a Japanese cross type similar to the one on
Gone Aussie Quilting
though more in blues and greens,
or kaleidoscope. This one from
Noga Quilts
is stunning!
Quilt for the sofa. I am getting a bit cold in the evenings, even though the weather is getting warmer. I would like something that could resemble the Beduin pillows and carpet I have. I can't decide if going all star is overkill (though this quilt from
QOB
is certainly attractive)
or this unfinished one by
Made by a Man So What
or whether I should try a similar style to what is done on the
Quilting Edge
, that I so admire. But then again, I would like to make a pic-nick blanket...
Quilt for the master bedroom - I am getting tired at looking at those wrinkled bed sheets. I have not decided on this one yet. My husband is a bit finicky, so I will have to ponder this one a bit still. I would love to try a sampler, though. Perhaps I'll try the Summer Sampler Series co-hosted by
Fresh Lemons
.
Assemble the subway quilt I cut before coming to Jerusalem, based on this
Oh Fransson QAL
Finish off the purple quilt made from Cherry House quilts
Tempest pattern
that I started last year. At least the quilt top is done.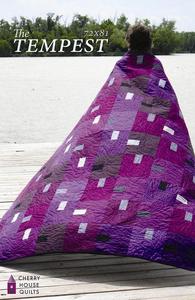 There are just so many projects I would like to do, in addition to the above-mentioned. How lovely that there is an internet community that is generously willing to share and inspire others. I applaud you all.
Wish me luck and have a lovely day!
Christine